~@ Sometimes it takes some 'accidental gore to prove that the intentional gore, is just another grand Illusion!.. Was this a 'tidy mass murder' or what?
Thanks to Mike King of 'Tomato Bubble'
 

NOT A DROP OF BLOOD ON WHITE MURDER TRUCK!

By Mike King
This white car (or was it one passing by?) struck and splattered 1 animal.
This white train struck and splattered 1 animal.
This white truck struck and splattered 1 animal.
HOWEVER….
Nice, France: This squeaky-clean white truck, we are told, struck, splattered, crushed and killed 83 people and injured nearly 200 more — many of them "critically."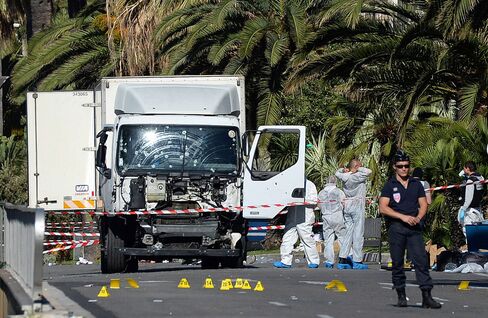 More blood on a dead roadside squirrel than on the white mass-murder truck! Heck — I once struck a low flying pigeon and had a few blood drops on my front fender!
What horrible "shooting!" Not a single

sticker

, er, bullet on the driver's side. And no hairline cracks?
Another "wag the dog" hoax attack designed to frame the big bad Muslims and keep everyone in a state of fear and subservient to the warmongering governments of NATO and Israel.